File needed here:
https://www.adrive.com/public/4Sbdrq/Virtual_Speditor2_06.rar

ATS has a default cargo ecosystem which dispatches randomly generated loads from each of the cities and locales on the map. While convenient, these loads are often short and inefficient netting you far less miles in the same amount of time as you would receive if you were to take a single, long load.
For this reason (and convoys), we use Speditor which is an application that allows you to create "custom" loads. These loads allow you to choose the cargo, the origin (pick-up) and destination (drop-off) points.
You can also create chained runs which is a list of jobs you can run one after the other in the game without having to tab out to create a new cargo job each time you complete one (such as you do when dispatching loads using trucksbook).
Let's take a look at how to set up a Speditor load now.
If you like, you can view a step-by-step video on how to do this here: https://youtu.be/XahAHMHlptM
Speditor QUICKSAVE METHOD (Step by Step)
Before you go into the game to find where you would like to pick up your cargo, be advised that you can only pick up freight loads so pre-purchased trailers will not work with Speditor. First thing you must do is log into the game and select the profile you are using. Then click on "Edit". Then as seen in the image below uncheck the box for "Use Steam
Cloud". This will allow your game to find the file it needs on your computer to load your quick save.

Now you need to create a Quick Save and Quick Load button. This is found in game. After your game loads click on "Options" then click on "Keys & Buttons". Scroll all the way down towards the bottom of this screen until you get to Quick Save & Quick Load as seen in picture below. Set these to keys you don't use with this game. Such as Num 1 and Num 2 on your keyboard's keypad.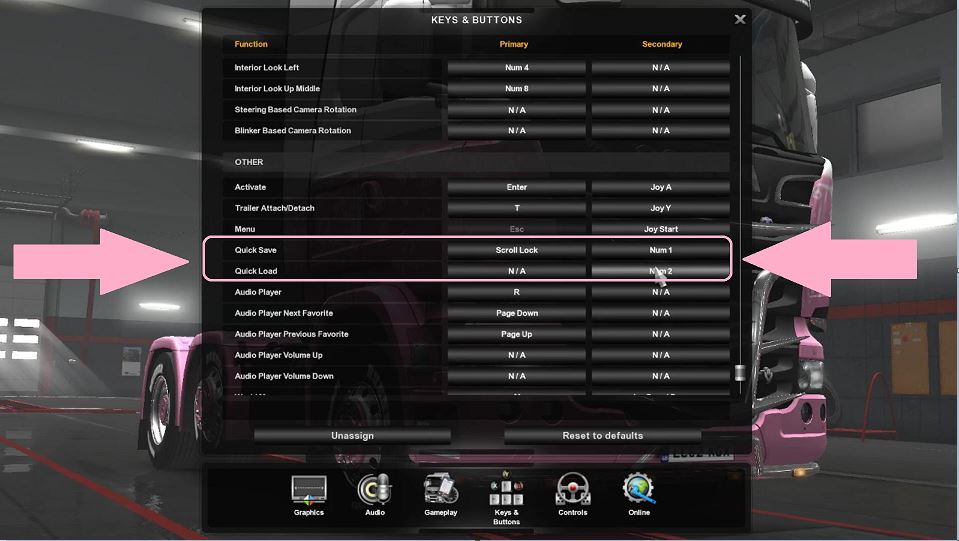 Next step is to download the Speditor. This link can be found at the top of the Information Channel in The Bear's Den discord. This file will have a "rar" extension. It will be located in an A-drive and will need to be downloaded then extracted or unzipped (there are many free programs that will unzip if you don't already have one on your computer). After you have extracted files. one of the files in the folder is the executable file for speditor named "Virtual_speditor.exe" (located at the bottom of the list of files in that extracted folder). Once located, right click on Virtual_speditor.exe and create a shortcut to drag over to your desktop for repeated use.

Now that you have your quick save and quick load buttons set and you have downloaded the Speditor program it's now time to learn how to use it.
First go into your game and move your truck from where it is located. Simply drive across the parking lot. Next click on the button for quick save (num 1). For approximately one second you will see two arrows rotating in the top left corner of your screen. This signifies that you just did a quick save. Now alt tab out of your game and open the shortcut to speditor you just made.
After you first open Virtual Speditor you need to "Enter Profile Directory" directly to the quick save you just made. This will be located here: Documents>American Truck Simulator>Profiles>Save>quicksave. Once you find your file path Speditor should autofill it each time you open the program from this point on.

Next step is to click on the "Load" button. After clicking load button you will see a black window pop up and disappear (looks like the old DOS window).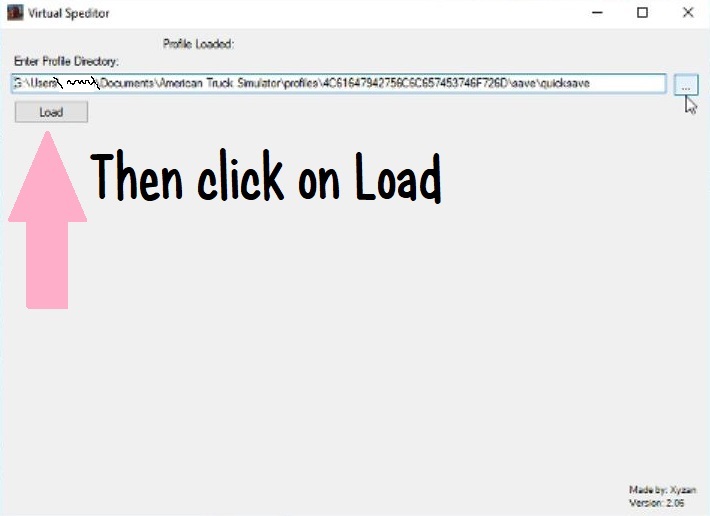 After clicking on load you will need to select information from the drop down boxes as shown in picture below.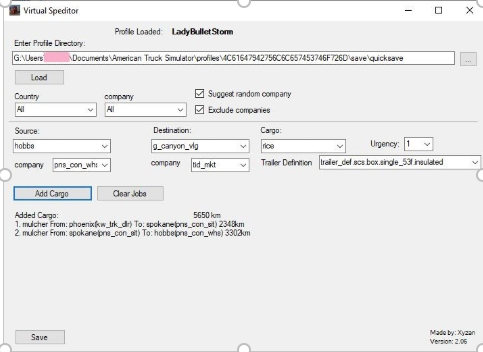 First you're going to want to set the "Source" to the city you're in. Then you want to set the "Company" you're at (or would like to pick up from), then you will set the "Destination" to whichever city you wish to deliver your load to and the "Company" within that city. Then select your "Cargo". Then set your "Urgency" to 1 or 2. It MUST be done in that order (source, company, destination, company, cargo). You can also pick your trailer definition. Trailer definition often determines the length of trailer or multiple trailers such as doubles or triples when available for the other parameters selected.

After you have completed setting up all parameters click on "Add Cargo". At this point if you choose to create a list of jobs simply start back over at your source. The source box should be the destination of the previous load you just created and it should already be selected there for you, along with the company. When finished selecting all destinations (limit 10) select save in the bottom left corner of Virtual Speditor.
Now return to the game (in the drive position) and select the number 2 on your keypad or whichever key you programed to use as your quicksave. This will pull up a menu of saves. Select the Quick Save on the top with today's date (double click on that save). Once that loads and puts you back into the game you will find your created loads in the Freight Market.
Once in the freight market click on the city you are in and this will sort view to only see loads leaving that city. If you cannot find your created loads in the freight market go back to save/load screen and delete the quicksave and repeat this process again.
Info in the forum: https://forum.truckersmp.com/index.php?/topic/85144-custom-jobs-virtual-speditor-v206-for-ets2-ats/&tab=comments#comment-843458