If you're a veteran to the multiplayer experience then you might already be familiar with Discord Servers. The Bear's Den discord server the Bear's main community headquarters. We use it as our company communications platform and information hub. We also use Discord for voice communications in-game when we want to communicate with other Bears during convoys or just to hang out and chat. You will want to frequently stop by for announcements, information, and to socialize with your fellow truckers!
Roles in The Bear's Den
When you first join The Bear's Den you will be given the role "Friend". We have many members in the community who are not employees of LadyBear Trucking. We are an open community to all games. However if you want to participate as a company member and get the most out of The Bear's Den experience don't forget to request your driver tag (role) in the #tag request channel.
Visit this channel located on the left-hand side of your screen, in the Tech Support category, and politely post a message to requisition your driver tags. It is always helpful if you post a link to your trucksbook profile there too for quicker response.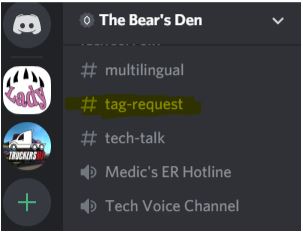 Once you've been granted your drivers' tags, your request will disappear from this channel and you will see your role change from Friend to Cub on the right side of the discord in the list of members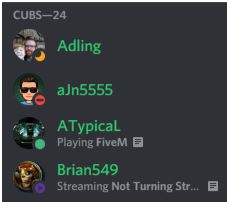 Upon reaching 10,000 miles with the company you can request your "Bear" tag. This will be your first major milestone. For more milestones check out the Bear's Info Channel in The Bear's Den discord server LadyBear Trucking category..